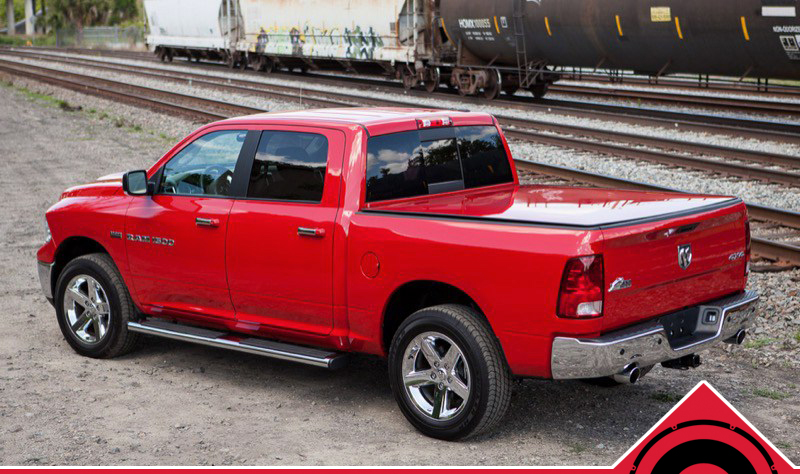 Trucks are very popular in North Florida. If you don't own one, you know someone who does. You can't drive more than a mile anywhere in Lake City without seeing a truck. To differentiate their trucks and increase the usability, many of our clients like to add a variety of truck accessories to their rides. Let's take a look at some of the most popular accessories we offer:
Floor Liners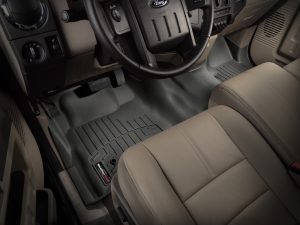 We offer floor liners by the industry leader, WeatherTech. You may be wonder what exactly "floor liners" are. Floor liners are an advance floor mat. Everyone knows the traditional floor mat that comes standard with your car. It's typically a piece of carpet that fits the general floor area. They work great at protecting the carpet just under your feet. If you have ever vacuumed your floor, you know how ineffective they are at protecting other areas. How much time did you spend vacuuming the perimeter of the floor mat? A lot, if you are like us. Floor liners take floor protection to the next level. Our WeatherTech floor liners are laser measured and computer molded and cut for a perfect fit. They not only cover the floor of your truck, but also the sides. This is great for the wet weather in Florida, because the water is contained in the liner. And, if you happen to accidentally spill a drink, it is contained too, no more stained carpet! Our floor liners are available in a number of colors and are offered for almost every truck made.
Bed Covers
Everyone who owns a truck knows how great it is to have the storage available in the bed. Truck beds offer a lot of room to store things without having to be concerned with damaging the interior of the vehicle. While it is easy to place things in the bed for storage, it is just as easy for someone to take them out of it. The bed also offers little protection from the weather. This is where a bed cover comes handy. Bed covers come in a variety of styles and materials.
Bed Covers: Soft Covers
The most basic is the "out of sight, out of mind" cloth covers. These are metal frames with water proof fabric stretched over them. They do a good job of keeping the elements out of your truck bed, and keep your valuable cargo out of sight. They do not do a very good job at securing your cargo, though. The cloth is easily cut. These covers come in roll-up, folding, and fixed styles.
Bed Covers: Hard Covers
Hard bed covers are our premium protection offering for the bed of your truck. They provide a hard, protective shell over the contents of your truck bed. These are the most secure, and most sealed form of bed protection. The hard covers that we offer come in two forms, folding and roll-up. The folding covers are segmented in three places. Each segment can be flipped forward, allowing for different sized access holes to the bed. These covers are a good balance of protection and pricing. The ultimate had cover is the roll-up cover. These covers have a small canister that mount at the front of the truck bed. Attached to the canister are two rails that mount on each of the truck bed rails. A accordion-like metal cover then can slide along the rails and cover the bed or roll into the canister. Most of the roll-up covers can also stop at incremental points along the roll-up path, giving you plenty of storage flexibility.
Light Bars
A hot new truck accessory is the LED light bar. LED light bars have exploded in popularity, with good reason. The LED light bars produce incredible amounts of light, with minimal demands on the vehicle electrical system. Also, because they use LED's as their light source, they are very reliable. There are some cheap light bars that are offered that have marginal output and very poor quality. Sound Line Design would never offer those to our clients. The light bars we offer are great quality and value. We spent numerous hours testing a variety of light bars and found that the bars we offer are the ones we could stand behind. Our skilled technicians have the know-how to install these light bars virtually anywhere on your vehicle. If custom brackets need to be fabricated, that is no problem, we can handle it.
Vent Shades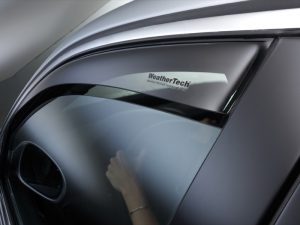 Vent shades have been around for many years. They are a must-have item for trucks in Florida. The combination of heat and rain, that we often see, make perfect conditions for adding vent shades on your truck. Vent shades allow you to vent your windows to let the hot air out, while keeping any rain from damaging the interior of your car. We offer vent shades by WeatherTech, which mount with specially designed clips. You no longer have to be concerned with nasty adhesive residue on your vehicle if you choose to remove your vent shades.
Audio Upgrades
Our core business is car audio. Trucks prove to be one of the more challenging vehicles we install audio systems in. Storage space is usually at a premium in truck interiors. Installing equipment like amplifers, subwoofers, and subwoofer enclosures are more of a challenge in these tight spaces. We have selected products that are perfect for providing great sounding audio in the small spaces trucks have to offer. From amplifiers that can fit in your hand, to subwoofers that are too thin to believe, we have a solution for everyone. Our years of installation experience in trucks has taught us what works and what doesn't. So, you can be assured that we will have your truck sounding great!
Visit Us Today
We offer all these truck accessories and more! If you would like to learn more about these, or other accessories for your ride, stop by today. You can also contact us here for more information.