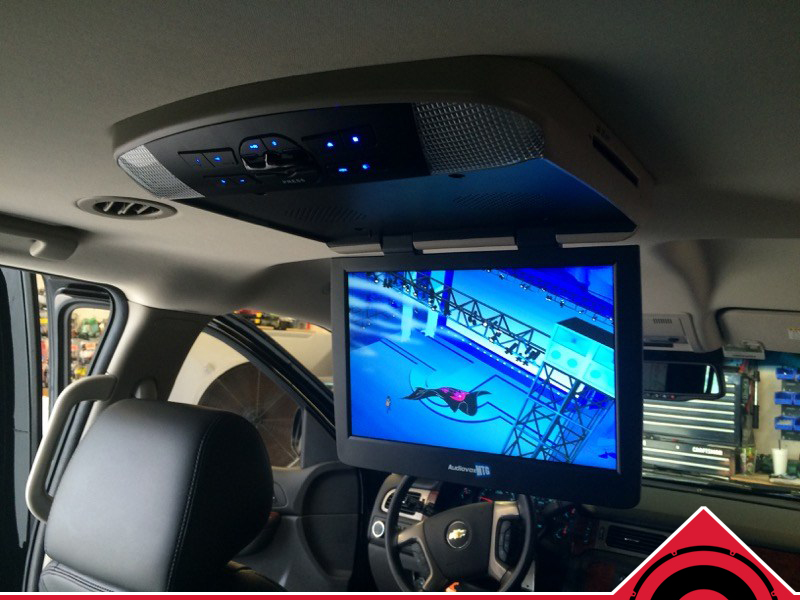 That advent of rear seat entertainment systems has been a life saver for many families. Mobile video systems allow for safer driving conditions, because the rear seat passengers are now entertained. We offer a number of rear seat video options, as well as many in-dash video products.
Replacement Headrest Monitors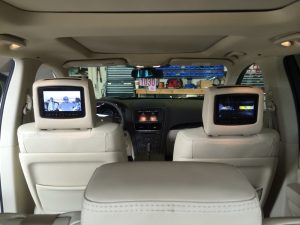 Here at Pinnacle Autosound, in Lake City, we consider replacement headrest monitors to be our premium rear seat video offering. These systems are complete, factory looking, headrests that have monitors and DVD players built into them. They are upholstered in material that closely matches the factory finishes for an OEM look. One benefit of this system is that it allows the factory headrests to be replaced, so the vehicle can be returned back to a completely stock configuration. This can be a great option for leased vehicles! Most of our headrest systems offer two separate DVD players, one for each monitor. This allows for individual viewing of two different sources, something no other rear seat system can offer. These are a perfect choice for families with children of varying ages or genders. Audio for the headrest systems can be played through the car stereo system, or for a more quiet ride, through wireless headphones.
Overhead Video Systems
Our second most popular rear seat video offerings are flip-down overhead video systems. These systems consist of a DVD player and a flip-down screen mounting in one housing that attaches to the roof of your vehicle. These can be a very cost effective option, and also allow for a much larger viewing screen than headrest systems can provide. We have installed hundreds of overhead video systems and have compiled some processes to streamline the installation process. Unlike the headrest systems that simply slide into the factory slots, the overhead systems need to be securely fastened to the roof. Many shops will simply screw the overhead systems into the headliner. This is a VERY unsafe practice. Headliners are in no way substantial enough to support the weight of an overhead system. Our technicians install overhead systems using support brackets that are bolted to the roof cross-members. This ensures a secure mounting and the safety of the vehicle occupants. Audio for the overhead systems can be played through the car stereo and also through wireless headphones. We offer additional headphones for vehicles with additional rear seating.
Multimedia Head Units
Adding additional flexibility to a rear seat entertainment system is possible with a in-dash multimedia head unit. These units can play DVD's and output their video as an additional source for rear seat systems. An additional benefit to these systems is the ability to play two different zones of audio, so the front passengers can listen to the radio or other sources, while the rear passengers listen to the video that is playing. Our multimedia head units all offer USB, and sometimes, memory card inputs if your video collection is in digital format.
In-Dash iPad Mounts
The most rapidly growing mobile video trend is that of iPad or tablet mounting as the main vehicle source unit. These make excellent source units, offering navigation, countless audio options, and even the ability to monitor vehicle performance. With an ever-growing list of available apps, the usefulness of a tablet as a source unit will continually expand. Another benefit to using a tablet is the ability to control the device via voice command. Siri, and other voice recognition software can give you hands-free control of the tablet functions.
Stop By Today
The mobile video segment is one that is rapidly growing and changing. If you are interested in adding mobile video to your vehicle, we encourage you to stop by today and speak with our video experts. We spend a considerable amount of time researching the latest technologies available. We would love to look over your vehicle with you and discuss the video options we provide. Feel free to contact us here for more information, too.