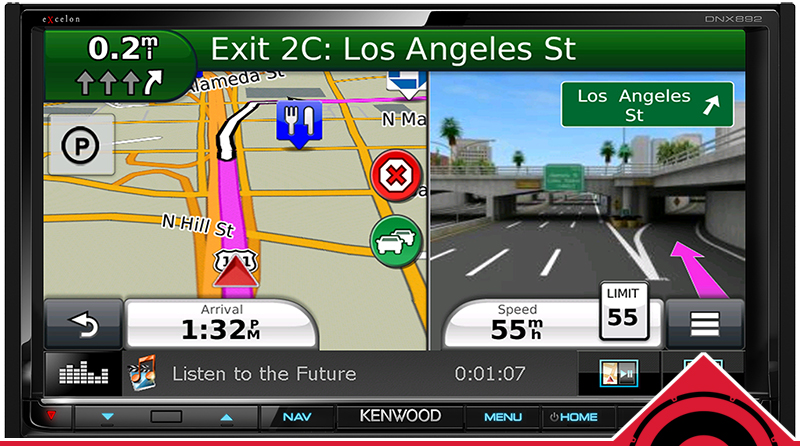 Navigation capability has become more accessible over the years with the advent of the smartphone and smartphone based navigation apps. If you have used a smartphone for navigation, we are sure you have noticed some problems. The first is battery life. Many smartphone navigation apps are very power hungry. What good is having navigation on your phone if it kills the phone before you reach your destination? Another problem with using your smartphone for navigation is safety. How many of you have tried using your smartphone for navigation and had to balance it on some part of your dash? Maybe you have stepped up the game and added a phone cradle. How does that make your dash look? Cluttered, most likely. Unless you are using an iPad as your phone, you most likely have a small screen on your phone. Trying to see a small screen while driving can be very dangerous. Not only is straining to see a small screen dangerous, trying to enter commands on the device can be dangerous as well.
Our In-Dash Navigation Systems Are Safer Than Your Smartphone
Our in-dash navigation systems offer a much safer alternative to using your smartphone. First, we offer systems with screens that are just over 6″ to screens as large as 10″. This means that not only do the navigation maps look large and clear, but that the buttons are also large and easy to select. These things result in a navigation experience that is much safer. In addition to being easier to see, the navigation system will be easier to hear. Our aftermarket navigation systems play through your existing factory (or aftermarket) stereo system. The audio experience is much better. Your music and movies will sound much clearer, and, when it comes time for a voice prompt from the navigation, the music will mute and the command will be loud and clear.
Safer And Sounds Great!
Speaking of audio, if you are planning on building a full stereo system, a navigation system is a great source unit! Most of our navigation systems have great sounding high voltage RCA outputs. Many of them offer a subwoofer RCA output too. This gives you the ability to blend in your subwoofer to the perfect level, right from the face of the radio! Additionally the navigation systems we sell offer USB inputs, for playing music or movies in a digital format. Along with the USB input, that can also connect to your smartphone, they have AM/FM tuners and capability for Satellite Radio and Bluetooth audio.
Stop In And See Our In-Dash Navigation Systems In Person
If you are interested in learning more about our navigation systems, we invite you to stop by Pinnacle Autosound in Lake City today. We have a number of working models on our display. Our sales experts would be happy to show you the many benefits that our systems offer. You can also contact us here if you would like to find out more information on them.