Car Audio is a staple service for us at Pinnacle Autosound, in Lake City, Florida. We have countless hours of experience in designing and installing car audio systems in almost any vehicle imaginable. Regardless of the vehicle or equipment, our goal is always the same. Maximize the audio performance and provide the most realistic audio experience possible. Let's take a look at some of the mobile audio services we offer.
Radio Upgrades
The most basic of service we offer is upgrading the radio in the dash of a vehicle. While this is a basic service, we have seen it grow in complexity over the years. When we first started in car audio, a radio replacement was as simple as removing the old one, and connecting some wires and installing the new radio. Times have definitely changed. Starting in the 2000's car manufacturers began integrating many vehicle electrical systems into their radios. Replacing the radios in cars that have integrated technologies requires additional parts, and know how. The technicians at Pinnacle Autosound stay in close communication with the manufacturers of integration devices, so we always have the best solution for your installation needs. In addition to the electronics, the dash designs have changed over the years too. In the past, radios simply slid into specifically sized holes. Now, many of the dashes have the radios and climate controls all integrated into one piece. Installing a radio in these cars requires very specific mounting bezels. We do our best to keep many of the most popular mounting accessories in stock, for same day installation. If we do not have the piece in stock, they are typically only a day away.
Speaker Upgrades
The first step to great audio is upgrading the speakers in the current audio system. Vehicle manufacturers are constantly looking for ways to increase their profits. They usually choose the speakers as one area to cut costs in. The factory speakers found in even the most prestigious brands of automobiles are still inferior in quality to even our entry-level speakers. They typical factory speaker sounds dull and lifeless. Our speakers use superior designs and materials to produce sound that is much more realistic. Regardless of your budget or vehicle, we stock a wide variety of speaker upgrades for all your needs.
Adding Bass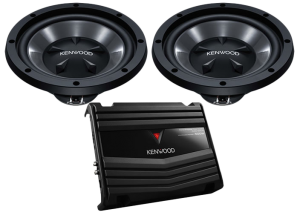 The weakest link in most any factory audio system is the bass it reproduces. Many factory audio systems rely on tiny speakers to provide bass output. Bass is all about moving air. Like the motorhead guys say, "there is no replacement for displacement". To get bass you need decently sized speakers. There are a few purpose built 6.5″ subwoofers that perform adequately. We typically try to install subwoofers that are 8″ in diameter and up. These provide you with the maximum "boom" for the buck.
Our entry level bass upgrades are what we refer to as "bass packages". We offer packages of subwoofers, enclosures and amplifiers, all matched for maximum efficiency. These are very reasonably priced, making it easy for anyone to add some bass to their system.
Because space is becoming more and more tight in newer vehicles, we offer subwoofers that specialize in being not only thin, but also not needing a very large enclosure. These parameters make it much easier for us to custom-build an enclosure for your vehicle that can fit in even the smallest of spaces.
More Power!
The next step in upgrading the sound of an audio system would be to increase the power going to the speakers. This is accomplished by adding one or more amplifiers to the system. When we begin to discuss adding amplifiers with our clients, many times we will hear a response like "I don't need a competition system, I just want to hear my music". Amplifiers do exactly that, they help you to hear your music. They help the music become more clear. Everyone knows the car environment is a very noisy one. Compared to your house, the auto environment is much more noisy. Add the additional amount of wind and road noise at speeds of 50 or more miles an hour and great sound becomes quite a challenge. That is where more power comes to play. Adding more power to your system allows you to be able to raise the level of your music to be louder than the outside noises. This provides you with an immersive concert-type experience in your vehicle. Who doesn't want that?
The Whole Package
So far we have talked about incremental changes to a stock car audio system. For some of our clients, these steps are the way to go. Other clients decide that they want a fully designed, custom audio system from the start. These are our favorite types of builds. We love to sit down with our clients and discuss the goals for their audio system. We like looking over their vehicles with them and determining what products we offer that will fit their needs. Our goals are always to provide our clients with more than they expected. It is very exciting for us to experience a clients reaction the first time they fire up their new system!
Contact Us Today For Your Personalize Consultation
If adding great sounding audio to your vehicle interests you, we would love to talk with you more about it. Contact us here, or stop by our facility in Lake City, Florida today, and one of our audio experts will find the solution perfect for your needs.